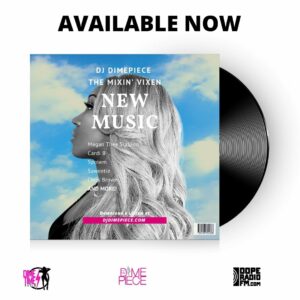 Thanks for tuning in Saturday's Dime Time Radio Mixshow on the all NEW Dope Radio FM!  If you missed it or need to rock out to until the next one, I GOT YOU!  It's now available for download and streaming!
I always rep for the ladies, so you can catch your fav's Megan Thee Stallion, Cardi, Doja and more!  Download and listen until I'm back in the Mix this Saturday, same time, same place on Dope Radio FM at 10pm EST!
CLICK HERE TO DOWNLOAD DIME TIME RADIO MIX 2-20-21
It's Dime Time Baby!
xoxo
-DJ Dimepiece "The Mixin' Vixen"